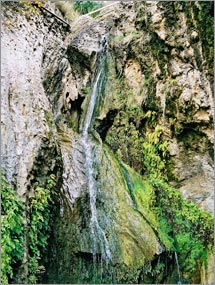 Natural upstream fish migration barrier, Arroyo el Bulito.
The objectives of this study was to identify site-specific restoration actions for wild, southern steelhead in those watersheds from Jalama Creek to Rincon Creek and to prepare a report prioritizing site-specific restoration actions. The primary focus of the study was to identify, prioritize, and formulate recommended actions for migration barriers within the study area.

As project manager and principle consultant to the Conception Coast Project and with funding from the California Department of Fish and Game and W.P. McCaw Foundation, Stoecker Ecological oversaw the initial landowner identification, outreach meetings, and access permission before conducting habitat typing, salmonid surveying, and migration barrier analysis. We developed unique ranking methods to analyze and prioritize restoration efforts and collaborated with the county, state, federal agencies and private organizations. Extensive GIS database development, data analysis, and map making was coordinated with Conception Coast Project GIS technicians.

An extensive data collection and interviewing effort was conducted to develop a comprehensive table of historical and contemporary salmonid sightings for study area watersheds. A Geographic Information System (GIS) database was developed specifically for this project to compile collected data, assess salmonid habitat conditions, analyze migration barrier impacts to steelhead, and prioritize watershed recovery opportunities. Multiple barrier ranking methods were developed specifically for this project to prioritize over 500 identified migration barriers for steelhead passage improvement benefits. These biologically based barrier ranking methods allowed for prioritization at a watershed and regional level and immediate and long-term scope.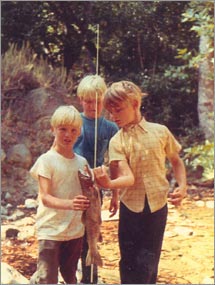 Historic photo of the Hollister kids with a prized 21-inch steelhead caught in Arroyo Hondo, 1969. Courtesy J.J. Hollister.
Of 168 stream miles analyzed in this report, 125 stream miles (almost 75%) are currently upstream of migration barriers that are impassable or severely impede upstream steelhead migration. The 43 stream miles that are currently available to steelhead generally occur in the lowest reaches of the watersheds where salmonid habitat conditions and stream flows are often inadequate for successful steelhead production. Impassable barriers have completely blocked access to several watersheds and extirpated the steelhead population.

Removing or modifying migration barriers to allow steelhead access to spawning and rearing habitat that is currently blocked was determined to be the highest regional priority and essential first step for steelhead recovery in the study area. Restoring steelhead access to upstream habitat requires a bottom to top approach. "Keystone barriers", which are the most downstream barrier blocking or significantly impeding upstream adult steelhead passage, were identified in focal watersheds. Steelhead restoration priorities should focus on these keystone barriers prior to steelhead passage projects upstream in their respective watershed. Providing effective upstream steelhead passage at keystone barriers is an essential step to steelhead recovery within each watershed and the region.

The following keystone barriers were identified as the top seven immediate barrier priorities for implementing projects that provide upstream steelhead passage. These barriers are all known to directly impede upstream access to a currently (2000-2002) documented adult steelhead population. Upstream passage at these locations would directly benefit southern steelhead populations. These barriers are listed in descending order of their upstream habitat score that would be immediately available to steelhead with passage provided at that barrier.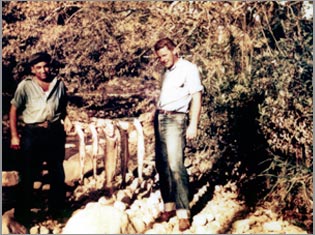 Five adult steelhead (24-26 inches long) caught below Casitas Pass Road in Carpinteria Creek, 1942. Courtesy G. Bliss.
Gaviota Creek- Northern-most Highway 101 Culvert (CALTRANS)
Arroyo Hondo- Highway 101 Culvert (CALTRANS)
San Jose Creek- Concrete Channel (S.B. County Flood Control District)
Carpinteria Creek- Private Road Crossing (Bliss)
Maria Ygnacio Creek- Old San Marcos Road Crossing (S.B. Co. Public Works)
Mission Creek- Flood Control Channels (2) (CALTRANS)
Las Canovas Creek (Gaviota Creek)- Highway 101 Culvert (CALTRANS)
The following six keystone barriers are also high regional priorities for implementing upstream steelhead passage projects. These barriers occur in watersheds that have existing or historic salmonid documentation and may currently impede upstream steelhead migration. These barriers are also listed in descending order of their available upstream habitat score.
El Capitan Creek- Highway 101 Culvert (CALTRANS)
Corral Creek- Highway 101 Culvert (CALTRANS)
Montecito Creek- Flood Control Channel (Casa Dorinda)
San Ysidro Creek- Pipeline (Montecito Water) and Debris Basin Dam (S.B. Co.)
Dos Pueblos Creek- Flood Control Channel (Shulte)
Rincon Creek- Highway 101 Culvert (CALTRANS)
Since the release of this report in 2002, several of the identified migration barriers have been removed or modified including; two CALTRANS road crossing barriers on Rincon Creek, a pedestrian crossing barrier on Carpinteria Creek, a grade control structure on Mission Creek, a grade control structure on Arroyo Burro, and a road crossing on El Capitan Creek. See images below for several of these post-project sites. In addition, designs, permitting, and/or funding has been obtained or is in progress for several other barrier removals or modifications including; the CALTRANS Highway 101 culvert on Rincon Creek, four road crossings and one debris dam in the Carpinteria Creek watershed, flood control channels and multiple road crossings in the Mission Creek watershed, the flood control channel on lower San Jose Creek, a grade control structure on Maria Ygnacio Creek, Highway 101 culverts at El Capitan and Arroyo Hondo, and multiple grade control structures and two Highway 101 culverts in the Gaviota Creek watershed. The future is looking better for Southern Santa Barbara County steelhead!
Historic photo of a large steelhead captured while swimming into Carpinteria Slough, 1988. Courtesy Robinson.

Excellent steelhead habitat located upstream of the County's impassable Gobernador Debris Dam.

Lagoon at the mouth of Jalama Creek.

Excellent pool habitat within the Gaviota Creek "Narrows".

Gaviota Creek mouth, Highway 101, and
Santa Barbara
Channel.

SE field researcher Nikolai Ferrell measuring the impassable inlet apron in the Highway 101 culvert at the mouth of Rincon Creek.

SE field researcher Nikolai Ferrell measures a migration barrier just downstream of another impassable County debris dam on San Ysidro Creek.

SE field researcher Shaw Allen collecting depth measurements below the obsolete Carpinteria Creek Debris Dam, which is no longer maintained by the County.

El Capitan Canyon owners were proactive in working with SE and agency folks to remove an impassable road crossing barrier and install this bridge with natural bottom. They even installed three huge steelhead sculptures on the bridge!

Following flood damage, CALTRANS removed two fish migration barriers associated with older road crossings and install two new bridges and restored natural stream reaches on Rincon Creek.

SE provided design plans for modification of this grade control structure on lower Arroyo Burro, which now allows improved upstream fish passage.