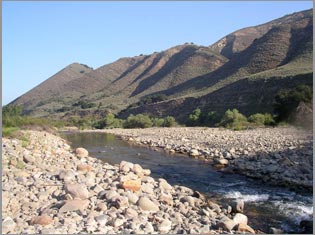 The Wild and Scenic Sisquoc River flows among the protected wilderness of the Los Padres National Forest.
With funding from the California Coastal Conservancy, Stoecker Ecological managed this project, conducted all field work, and authored the final report. The objective of the project was to identify and assess steelhead migration barriers on the Sisquoc River, and significant tributaries, and to provide that data to the California State Coastal Conservancy in a form consistent with the Pacific States Marine Fisheries Commission Fish Passage Database. In addition, migration barrier restoration actions were prioritized and general habitat and steelhead population information collected.

In the 1940's the Santa Maria River watershed was reported by DFG staff to have the second largest run of steelhead in Santa Barbara County, behind the Santa Ynez River (Shapovalov, 1945). Prior to the construction of Bradbury Dam, but after the construction of Gibraltar Dam upstream, the size of the adult steelhead run on the Santa Ynez River was estimated to be as high as 25,000 fish. The annual run of steelhead up the Santa Ynez River was likely much higher than this estimate prior to the construction of any dams on the system. Although size estimates of the historic adult steelhead run up the Santa Maria River are not reported, based on estimated run sizes of other large river systems to the south (Santa Ynez River, Ventura River, Santa Clara River) and comparison of habitat quality and quantity, it is likely that during wetter years several thousand to well over 10,000 adult steelhead may have migrated up this watershed. The construction of Twitchell Dam on the Cuyama River in the late 1950's blocked at least 264 miles of stream and more than 60% of the Santa Maria River watershed and tributary habitat found upstream. O. mykiss continue to persist in some of these Cuyama River tributaries.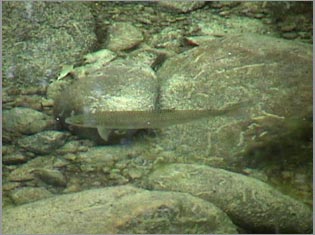 Steelhead trout holding in the tailout of a nice upper Sisquoc River pool.
Historically, the majority of the Santa Maria River steelhead population was believed to migrate up the Sisquoc River to spawn and rear (Shapovalov, 1945). Since no major dams occur for the entire length of the Santa Maria and Sisquoc River the watershed has the potential to support a large run of steelhead with properly managed water releases from Twitchell Dam. The majority of the Sisquoc River watershed remains in a relatively natural state and is protected within the San Rafael Wilderness, Sisquoc Wild and Scenic River Corridor, and other public lands of the Los Padres National Forest. Improving steelhead migration flows on the mainstem of the Santa Maria River below Twitchell Dam, in order to provide access to spawning and rearing habitat upstream in the Sisquoc River, is the highest priority and an essential first step for steelhead recovery in the watershed.
| | |
| --- | --- |
| Matt Stoecker standing atop the rediscovered Horse Creek Dam, which five years later he assisted DFG staff in blowing up with explosives. | Jim Stoecker captures video of excellent bedrock pool habitat and juvenile steelhead found in a remote Sisquoc River tributary. |