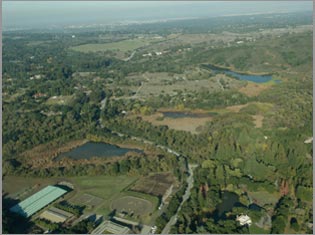 Aerial view of the remnants of a shrinking reservoir created by Searsville Dam.
In coordination with the national non-profit river conservation group American Rivers, Stoecker Ecological is excited to be working with the group Beyond Searsville Dam. This non-profit alliance of individuals, community groups, resource agencies, and private companies is advocating for investigating the restoration of threatened steelhead trout and a free flowing San Francisquito Creek through the removal of Searsville Dam in a safe manner that is consistent with protecting creekside communities and watershed resources.
Background
BSD was formed in 2006 by watershed citizens who support evaluating steelhead passage and dam removal alternatives at Searsville Dam, which is owned by Stanford University. Searsville Dam causes several significant direct and indirect negative impacts to threatened steelhead trout and native wildlife, including but not limited to: blocking access to miles of former spawning and rearing habitat, the interruption of gravels suitable for spawning, and harboring exotic predatory species that compete with and prey upon native wildlife. These and other impacts harm steelhead trout by causing significant elimination and degradation of habitat that impairs essential life stages, including breeding, rearing, and migration. Dam removal could allow for the recovery of threatened steelhead to over ten miles of historic habitat upstream in creeks that flow through the towns of Woodside and Portola Valley, restore the natural canyon, confluence of five creeks, and historic wetland ponds currently buried under the dam and reservoir, eliminate exotic fish species that occur in Searsville Reservoir, and eliminate the safety liability and costs of maintaining this over-a-century old dam adjacent to the San Andreas Fault and its mostly sediment filled reservoir.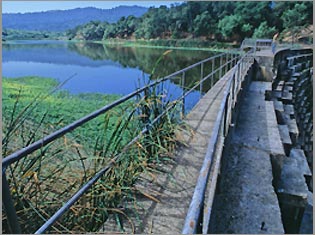 The obsolete Searsville Dam blocks fish and wildlife migration, while the reservoir incubates invasive, non-native species that prey on the native fauna.
Across the country and world, dams that have outlived their usefulness are being removed to restore ecosystem health, reduce safety risks, comply with environmental regulations, save money, and revitalize communities. Stanford University has a unique opportunity to be a leader in the emerging field of dam removal study while promoting native ecosystem restoration at their Jasper Ridge Biological Preserve.
BSD was formed in response to the growing public interest in the benefits of dam removal, along with the expressed need for an independent group actively promoting the investigation of removing Searsville Dam. American Rivers, a national non-profit conservation organization dedicated to protecting and restoring healthy natural rivers, generously acts as the fiscal sponsor for BSD and provides administration, funding, outreach, communication, and research support.
Vision
An unobstructed, healthy flowing creek from the mountain tops to the San Francisco Bay where steelhead trout and other native species can thrive and revitalize our watershed and community.
Objective
To work collaboratively with Stanford University and other watershed stakeholders to accomplish the following goals: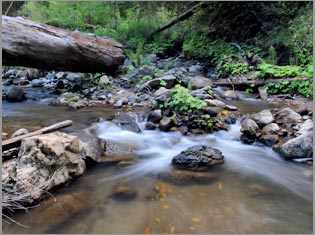 Excellent trout habitat in Corte Madera Creek upstream of Searsville Dam could once again support runs of steelhead trout with dam removal.
1) Assess the safety concerns, ecological implications, engineering requirements, and costs of the timely removal of Searsville Dam and restoration of "Confluence Valley", which is currently under the reservoir.
2) Coordinate with existing efforts to advocate for the implementation of effective and ecologically sound measures to reduce flooding upstream and downstream of the dam.
3) Provide a public forum and web-based clearinghouse for sharing information and expertise about dam removal as a safe, effective restoration and management alternative.
4) Coordinate activities to promote a broad community-based coalition of active support through festivals, recreation, and educational events.
Actions
1) Establish the BSD Advisory Council.
2) Develop a web-based visual library of collected documents, photos, videos, maps, etc.
3) Hold public meetings, presentations, and events to promote community involvement and education.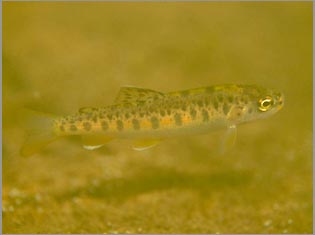 Wild, native strain rainbow trout continue to hang on in Corte Madera Creek and several tributaries upstream of Searsville Dam awaiting the day that they can become steelhead again.
4) Identify and collect existing data related to Searsville Dam and its impacts on the watershed, related watershed issues, and scientific literature and case studies on dam removal.
5) Identify data gaps for conducting a thorough analysis of dam removal.
6) Investigate alternatives to minimize flooding issues downstream in coordination with current efforts led by the Joint Powers Authority.
7) Seek funding to commission a credible Searsville Dam Removal Alternatives Analysis study in coordination with Stanford University, Joint Powers Authority, San Francisquito Watershed Council, and other interested stakeholders.
8) If deemed feasible and desirable, advocate for the preferred dam removal alternative and offer Stanford University and other watershed stakeholders support with fundraising, permitting and project implementation.
9) Identify funding sources and acquire necessary resources to implement actions.
10) assist with the monitoring of steelhead population recovery, site restoration, and provide public updates.
Sign our Vision Statement!
Click Here for our Vision Statement
Individuals and groups are encouraged to sign on to the Beyond Searsville Dam Coalition's Vision Statement document by sending an email to Matt@StoeckerEcological.com with an individuals name, title(s) (past or present) and city/town of residence or your group's name, contact person's name, address, and contact email.
Contact Information
Beyond Searsville Dam
3130 Alpine Road Suite #288-411
Portola Valley, Ca. 94028
To Make a Donation
100% Tax-deductible donations can be sent to the below address in the form of a check made out to "American Rivers Inc." with "Beyond Searsville Dam" written in the memo line. Thank you for your support!
American Rivers, Inc.
1101 14th Street, NW Suite 1400
Washington, DC 20005-5637